I haven't written about restaurants for a while. Honestly? I've been too discouraged and disappointed to write about it. zumbrun.net is a happy place, I don't want to dwell on the negative here.
I'm talking about, for example, Eddie Merlot's. Nice enough, but the last time I was there it was 48 dollars for a New York strip – just the steak, sides are extra. Around here you can buy a New York strip that will make you weep with joy when you eat it at retail for 8 dollars a pound. A 6X markup over retail is banditry. It's good, the food is generally cooked well, the service is ok. But it's not 48 dollars for a steak good.
Or, for another example, Joseph Decuis used to be our go-to spot for celebratory dinners. Amazing food, perfect service. It was expensive, but you got what you paid for. But recently Joseph Decuis seems to have returned to its roots: Pete Eschelman's private club. Joseph Decuis started out as the private dining room for his business. The last few times we've been there it's been like since we're outsiders we get ignored. Service has been indifferent. The last time we were there we ordered, got a glass of wine, and then were ignored for 45 minutes. Literally ignored – no wait staff visited our table until I finally got up and hunted them down. Food has been inexcusably bad. Debbie got a piece of fish that was raw in the middle. It seems like all attention of the kitchen and wait staff was going to groups that they knew.
Discouraging.
Which brings me to my happy place – Shorty's in Garrett.
Shorty's is located in the heart of Garrett, just south of the train tracks. It's just a neighborhood place. There's a beautiful old bar as you walk in, and incredible pressed tin ceilings and then just some vinyl-clad booths and diner style tables.
It's not fancy, but the food is oh so good. If I don't know or trust a restaurant I order a steak cooked medium. I like my steaks medium rare, but at too many places medium rare comes out rare [1]. At Shorty's every steak I've had (unlike Joseph Decuis) has come out perfectly cooked.
Shorty's full name is Shorty's Steakhouse, and that's fair, because their steaks are worth top billing. But they run specials every weekend (they have a Facebook page you can check for the specials) and they are at once as delicious and innovative as anything anyone is doing, and still hometown.
Debbie and I went up there last weekend for one of those specials: bluegills.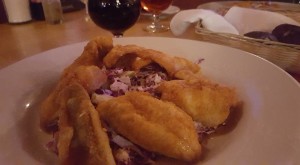 Debbie and I normally order different things so we can taste each others [2], but when it came to bluegills we both ordered them. And like everything at Shorty's they didn't disappoint. Which is saying a lot, because we take our bluegills seriously. They were just lightly breaded, dusted I'd guess with a bit of flour, cornmeal, salt, and pepper. And then fried until crisp outside and still tender and juicy inside. Served with red cabbage slaw and another side of your choice.
We got there early and by 6 pm [3] the place was packed. But despite the crowd, Shorty's was ready for it, and unlike Joseph Decuis, the service was spot-on. Every plate hit the table exactly when it should, the wait staff checked back often, and our glasses were never empty.
Our most recent visit, and everytime we've been Shorty's, was just splendid.
1. Medium rare is warm, red, and firm in the middle, rare is cold, red, and soft. If you want a steak warm through and get it cold, it's just gross. It ain't rocket science, it only takes a modicum of care and skill to get a steak cooked right.
2. As usual, when I say "we", I mean "me." I taste Debbie's and any attempt by her to taste mine is met by growls and threatening gestures with the silverware.
3. Here in hillbilly heaven 6 pm is late for supper. And we have dinner at 11:30 am, in case you were wondering.