We had some small tomatoes from the garden to use up. Debbie found this recipe and it was incredibly delicious.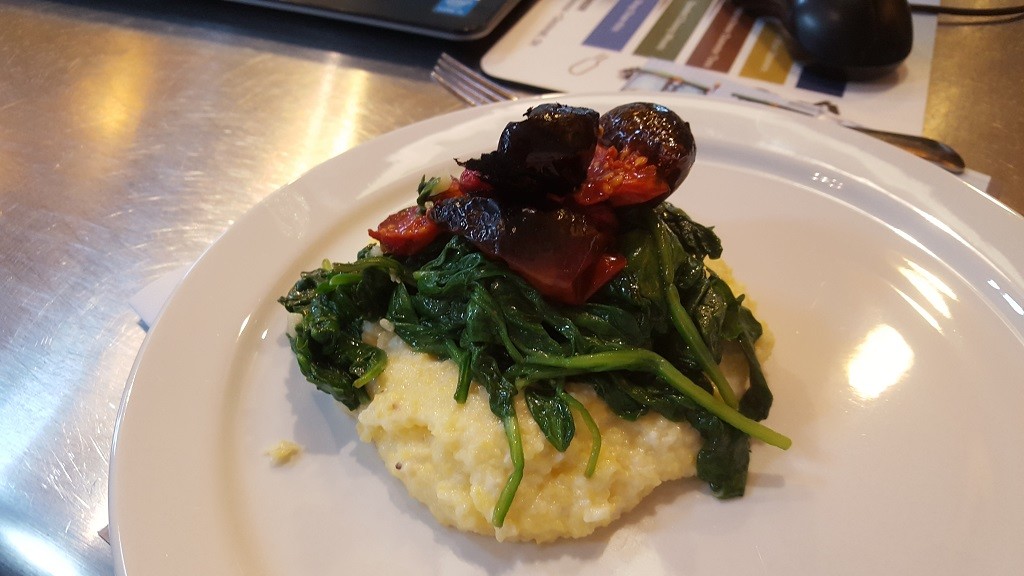 What you'll need
A nice bunch of small tomatoes. Cherry tomatoes are great, golf ball sized ones are good too. If they're bigger just cut them in half.
Olive oil
Fresh herbs
About 6 cloves of garlic
A big bunch of spinach
A cup of polenta
About 4 oz of soft goat cheese
Water
Salt
Pepper
How to do it
Heat the oven to 425. Line a baking pan with parchment paper (or not, you'll just have to scrub the pan)
Put the tomatoes in the pan and drizzle with olive oil, roll them around to coat on all sides
Toss in some fresh herbs if you have them, sprigs of rosemary, thyme, and oregano are all nice.
A few cloves of garlic are nice too. Leave the papery husks on.
Cook for 20 minutes or so, toss and cook a bit more.
Remove from the oven.
When they've cooled remove the herb sprigs, squeeze the garlic out over the tomatoes, and give them a rough chop.
Finely chop, or even mince, 3 cloves of garlic.
Add some olive oil to a big pan and simmer the garlic over very low heat. Don't brown it, just poach it in the oil.
In the meantime take a nice big bunch of spinach and remove the stems and roughly chop it.
Put the spinach in with the garlic and cook until the spinach is wilted.
Remove the spinach from the pan and season the spinach with salt to taste.
Add 3 cups water to the pan and bring it to a boil.
Add a cup of polenta and a 1/2 teaspoon of salt.
Cook, stirring often, until it's creamy.
Add 4 oz of goat cheese, a soft fresh one. Any cheese you like will be splendid.
Stir until the cheese is melted.
Give it a nice seasoning with pepper.
Serve by putting a big dollop of polenta on a plate, then topping with spinach, then with the tomatoes.
You may have noted at this point that in the picture my tomatoes aren't chopped, and neither is the spinach. And the spinach has its stems. I didn't chop the tomatoes or the spinach or remove the stems, but it would've been so much better if I had.