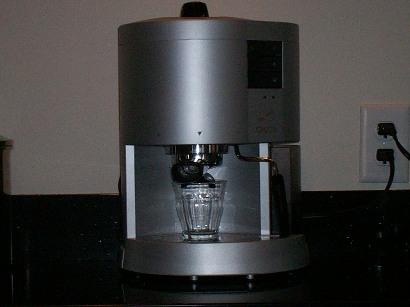 Pictured above is my Gaggia Carezza espresso machine.
I bought it off of a recommendation on Amazon a couple of years ago. It's more than lived up to the recommendation and to my expectations.
It makes splendid espresso. You can pull shot after shot with perfect crema without any fuss. The milk steamer works nicely, steaming up a pint of milk with a thick foam in less than a minute.
It's very simple to use. Gaggia felt compelled to send not only two different instruction manuals, but also included a video on a CD. But all you do is warm it up, press one button to pull your shots, press another button to generate steam, twist a knob to steam milk, and that's it. It's also very easy to clean, and to get parts for. I managed to lose milk steamer nozzle and got a replacement in a few days from WholeLatteLove.
At work we make latte each morning. We've been doing this for 10+ years now. We're on our 4th Krups pump espresso machine. The model numbers and case style change over the years, but the machines are essentially the same. They're nice machines, but for nearly the same price – I paid $150 for the last Krups machine and $200 for my Gaggia – the Gaggia is head and shoulders above the Krups in terms of quality of coffee produced.
I whole-heartedly recommend the Gaggia Carezza for daily use. And WholeLatteLove for all your on-line coffee shopping.