In the spring of 1968 I was 10 years old, and I broke my leg. My brother Dave and I were driving an Allis Chalmers C and fighting over who should control the throttle. We were so busy fighting over it that we didn't notice the garden wall until we were going over it. I was sitting on the right, Dave on the left, and Anne was riding on the back. When the tractor went over the wall and started to roll, I jumped right and Dave jumped left and Anne stepped off the back. The tractor rolled to the right and pinned me underneath it, snapping both my fibula and tibia just above the ankle.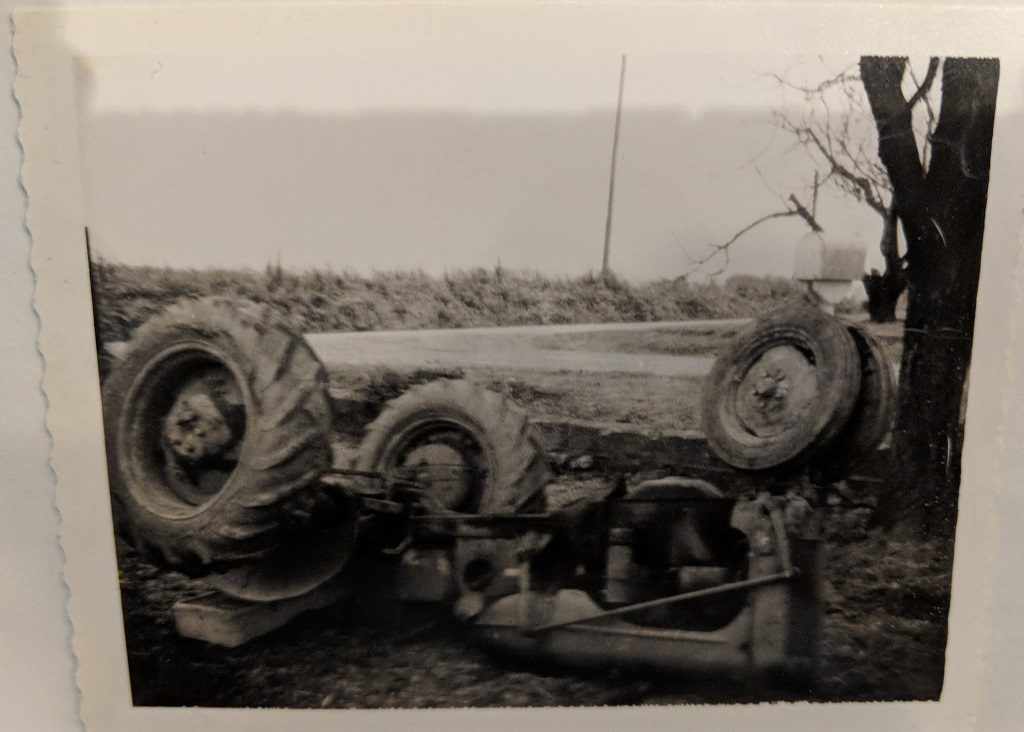 Anne went running into the house to get Dad. Mom was at IPFW, working on her bachelor's degree. Dad came out and heaved the tractor off of me. I don't remember this, but Dad told me later he'd just spread manure on the garden. So in addition to being pinned under a tractor with a broken leg, I was face down in fresh manure. "I'm ok, I'm ok. Put me down. [1]" I remember saying to Dad as he carried me into the house. Meanwhile my right foot was waving back and forth, unconnected by bone to the rest of my leg.
These were the good old days, before 911, before there were more cars than people in a household. Mom had taken the car to school that evening. Before cell phones so Dad could call Mom and tell her what happened. Dad called my Grandma who lived 3 miles away and she came up to take us to the hospital in the 1966 Rambler. Years later it occurred to me to ask who stayed with Dave and Anne when I went to the hospital. Grandma did while Dad took me in. [2]
Dr Minnick, the same Dr. Minnick who would look at me 13 years later when I pinned my stupid self under a combine (pinned again), set my leg in the emergency room at the Whitley County Hospital. When I swam up from the anesthesia my Mom was there and everything was ok. [3]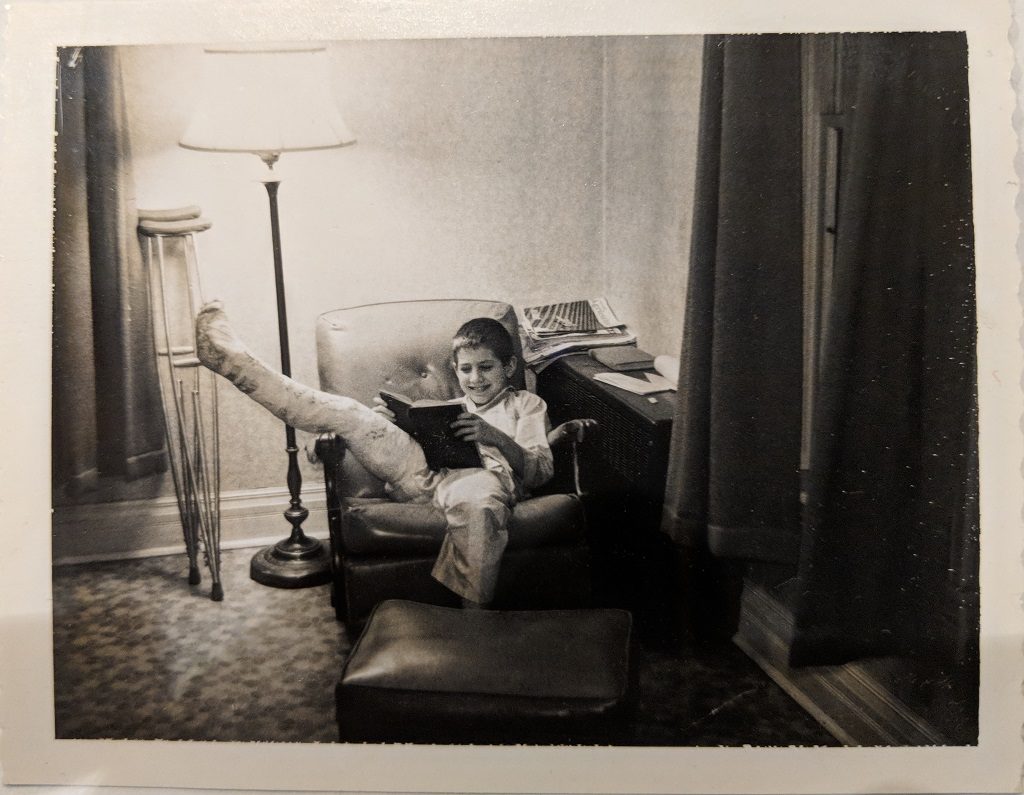 My right foot points about 15 degrees to the right, and my right leg's somewhat shorter than my left, but other than that, it's just an amusing anecdote; of being young and dumb, of loving parents and grandparents, of good country doctors, and of life – tragic and comic.
1. I knew I was in trouble (and didn't realize I had a "get out of trouble free card" since my leg was broken)
2. It has somehow never occurred to me before now that my Dad drove me to the hospital again when I got pinned under a piece of farm machinery in 1968, and again in 1981. Farming is a rough gig.
I would much rather get pinned under a few tons of iron than to ever have to pry my son out from under them. It's a horror as old as time, "The king was shaken. He went up to the room over the gateway and wept. As he went, he said: "O my son Absalom! My son, my son Absalom! If only I had died instead of you–O Absalom, my son, my son!" – 2 Samuel 18:33. Did my father weep for me? I wish I could ask him.
3. Mom told me later she felt so horribly guilty for not being there when in it happened. All I remember is her being there when I woke up and feeling so safe because she was [4].
4. 50 years gone by now, I was sitting with Mom again in the Whitley County Hospital this weekend. I wish I could've been the comfort to her that she was to me.