It's been so long since I've posted [1].
Summer is in full swing so it's time to preserve summer's bounty for the coming winter.
As I tend to do, I got carried away the Columbia City Farmer's Market last week and came home with 2 huge cabbages.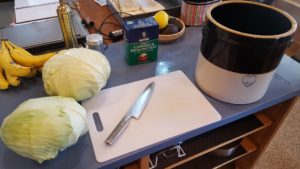 The answer to the question, "What to do with 2 huge cabbages?" is obvious: Sauerkraut!
Take that cabbage and slice it thin.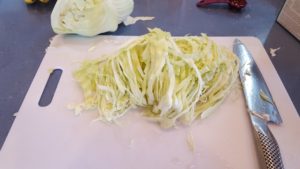 And sprinkle it with salt and pack it into a crock.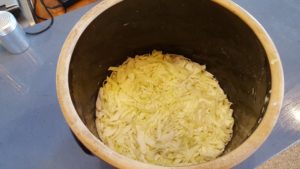 And then let it rot. I put it in our mudroom. Debbie was in there the other day and said "Something's died back here." "That's just the sauerkraut," I told her.
The sauerkraut will rot for about a month and then I'll can or freeze it. A mudroom that reeks of death for a month is a small price to pay for a winter of Rueben sandwiches and choucroute garnie and pork and sauerkraut on New Year's Day [2].
1. The reasons for that are many and sundry and will be divulged in good time. Or maybe not.
2. Which brings you good luck for the rest of the year.