Debbie got me 5 fruit trees for my birthday to supplement our orchard.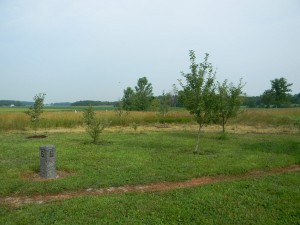 With 5 new trees we now have 9 trees all together, laid out in a 3 x 3 grid, of course.
From the right of the picture, front to back:
Courtland apple, Macintosh apple, Royal Gala apple
Granny Smith apple, a wild apple tree, Honey Gold apple
Honey Crisp apple, Montmorency cherry, Courtland apple
Definitely skewed towards apples. I'd like to add another pie cherry, and some sweet cherries. The wild apple tree is a start from a tree along one of our fields. That tree has been there as long as I can remember, and is always laden with apples. It'll be interesting to see if its offspring grows up to bear apples. It's certainly vigorous as a shoot.
In the foreground is my directional stone pillar. It's a good feeling to know if I get lost in the orchard I can always find my way home.