I've said this about a lot of things, but this time I mean it! This is what you get eat in heaven every day.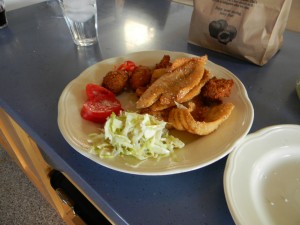 What do we have here? Starting with the fish…
Bluegill fillets that Gary Pippenger gave us. What's the best fish in the world? Bluegill, that someone else has cleaned and given to you!
Then going clockwise…
Sweet and tangy cole slaw. Made from a cabbage I got last Saturday at the Columbia City Farmer's Market. At 5 days old it's at that perfect point of ripeness just before it starts getting soft.
As if it couldn't get any better, then we have…
Tomatoes fresh from our garden. The very first slicers of the year. Our tomato season will last 2 months at the best. It is all the better for being so brief.
Continuing clockwise we have…
Hush puppies made from corn meal I ground from heirloom white open-pollinated corn that I grew from seed given to me by Sam Taulbee. If you've had hush puppies at a chain restaurant you know them as leaden balls of greasy cornmeal. These are ethereally light clouds of creamy corn batter surrounded by a crunchy layer of fried batter.
And finally…
A few thin slices of the first banana peppers from our garden. They make a nice spicy crunch with a bite of fish or hush puppy.
We even had a couple of hush puppies left over for Spenser and Owen (the Wonder Dogs.) They certainly enjoyed them, but they had little hushing effect.
Best of all, I fried the fish and hush puppies on our Jay Rosswurm Signature Big Stone Cooking Area. So all the mess is outside and not in the kitchen!