We're spending Thanksgiving 2011 at home. Debbie made a sweet potato pie from white sweet potatoes we got from Jeff Rosswurm. It smells great! But I have serious reservations about using crumbled burnt peanuts for the topping.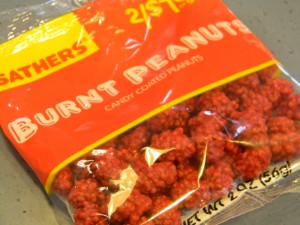 I expressed my concerns about these to Debbie and she told me to "shut up." That hardly seems in the Thanksgiving spirit.
I made gingered cranberry sauce using a recipe from my favorite food blogger Closet Cooking.
The stuffing is ready go, just regular bread stuffing. I was happy to have turkey stock I'd canned from the last time we cooked turkey to use in the stuffing.
In a few minutes here I'll get the oven preheating for our 2011 turkey. Since it's just Debbie and me this year, we're cooking a 5 pound bone-in turkey breast. No getting up at 2:30 a.m. to start the turkey!
The Macy's parade is on the TV, the house smells like home, the crops are harvested and safely stored away. We are ready to give thanks!