Debbie and I went to see a Manet exhibit at the Toledo Museum of Art yesterday. Did you know Manet and Monet aren't the same person? I wondered why we were going to see a bunch of impressionistic paintings of water lilies, that's not really Debbie's sort of thing. But when we got there it all became clear to me. Édouard Manet painted lots of portraits and was a major influence on the Impressionists to come. Claude Monet was the water lily guy[1].
On the way to Toledo Debbie asked me, "What do you hope to get out of going to this exhibit?"[2] I said I thought it would make me a better person. That's sounds a bit[3] dorky, but I meant it. I think viewing any creative work enlightens and ennobles the viewer. We call God the Creator and when people create we're at our best. It's good to immerse yourself in that and come out feeling renewed and hopeful.
The Toledo exhibit was very nice and larger than I expected. It runs through January 1st, 2013. If you have a chance to get to Toledo in the next few weeks, it's definitely worth your time and the 8 dollar ticket price.
I had three favorites from the show.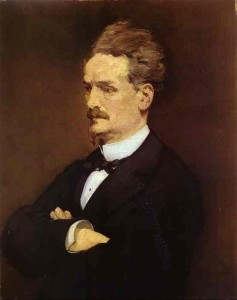 Rochefort reportedly didn't want to sit for this portrait. It's amazing how Manet captured his impatience and disengagement. The way he makes Rochefort's black coat look real with so little paint is astonishing.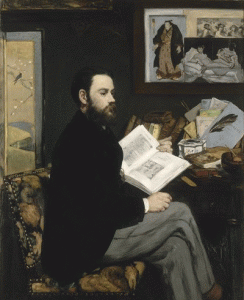 You can't see it in this little picture, but the blue book on top on Zola's shelf is his critique of Manet.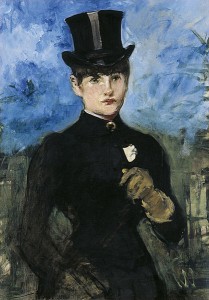 Manet loved to paint beautiful young women and this was the most beautiful to me.
---
1 Hey, it's not just me. The first line in the Wikipedia entry on Manet says, "Not to be confused with Claude Monet, another impressionist painter of the same era."
2 Have you driven the new 4 lane limited access 'Fort to Port' highway 24 between Fort Wayne and Toledo? It's a wonderful improvement over the old twisty truck-dodging road, but it's also so stupefying that you'll too be asked questions (or hear answers) you'd normally only hear from a drug-addled stoner.
3 A 'bit' dorky? No, a lot dorky!