This is the view out my front door tonight. The corn is growing minute by minute, and the native plants Debbie and I started in front of the field are really taking off.
| | |
| --- | --- |
| Fields | Fields and Spenser |
Owen (the Wonder Dog) of course had my back as I was taking these pictures.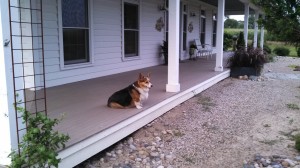 Debbie's been gone all weekend, so I'm feeling maudlin. I have two confessions to make about what's pictured above.
1.) When we were looking at places to build our house, and when Debbie said, "this is the spot," I thought she was nuts. I often think that, and just as often I'm wrong. Particularly in this case though. It's hard to imagine a more beautiful spot to live.
2.) Lana often accuses me of taking more care with the field in front of my house than all the other fields. I categorically deny this of course. It's not my fault that we happened to build by the best field on the farm.
But Lana's right. I do take more care with this field. I have to look at it morning and night, every day!
Actually, I have a third confession.
3.) I also thought Debbie was nuts when she brought Owen home. As usual, I was totally wrong. Spenser may disagree, but Owen is endlessly entertaining.