My little apple trees, after getting caught by a late frost last spring, are bearing apples with a vengeance this year.
There were a few apples that had dropped off the trees, and several branches that were getting ready to break from the weight of all the apples. I picked those to save the branches and ended up with about 7 pounds of apples. Owen watched the picking with a thoughtful eye.
So what to do with 7 pounds of apples? I love apple butter, but my only experience with apple butter has been in making huge batches in a cast iron kettle over a wood fire. Stirring 7 pounds of apples all day didn't seem like a winning proposition to me. I did a quick on-line search and sure enough, there are endless slow cooker recipes on-line for apple butter.
The apples filled up our little slow cooker.
After cooking for 10 hours it looked like this.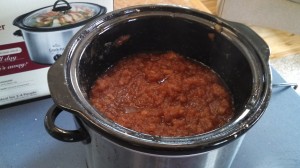 Wow! Looks like apple butter! I was shocked, I figured it would just be pale, like apple sauce.
Here's the recipe, just in case you have 6 pounds of apples you're wondering what to do with.
Apple Butter
Makes enough for you and some to give away
6 1/2 pounds apples – peeled, cored and sliced
1 cup granulated sugar
1 cup light brown sugar, lightly packed
1 teaspoon ground cinnamon
1/4 teaspoon freshly grated nutmeg
A dash of ground cloves
1/4 teaspoon salt
1 teaspoon pure vanilla extract
Put the apples in a big bowl. In another bowl, combine sugars, cinnamon, nutmeg cloves and salt. Pour the mixture over the apples and mix well.
Put it all in a slow cooker and cook covered on low for 8 hours.
Stir the vanilla in.
Cook another 2 hours uncovered.
Let it cool and freeze or can.
Now. I don't like spicy apple butter. The recipe above is about a third of the spice most recipes recommend and I'd do it with even less next time. Likewise with the sugars, my apples were really tart and that amount of sugar was about right. I'd probably start with less sugar next time and add more if needed at the end.
It's time to make waffles! Waffles and apple butter, mmmm!