We had corn to deliver in January. And it snowed, and it snowed, and then it snowed some more.
Finally here in the last week of February the weather moderated enough that we were able to start hauling.
Those flecks aren't dirt on lens, it's snow blasting by on the 25 mph winds.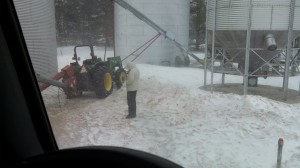 "It must be great to work outside," I hear sometimes. Lana is enjoying being out in the fresh air.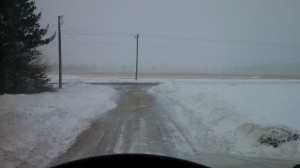 While Lana was watching the auger, I was helpfully monitoring conditions, keeping an eye on the lane to make sure it was passable and making sure it wasn't getting too warm in the cab of the truck. Somebody had to do it.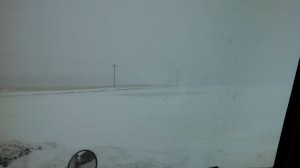 Looking to the north in the direction we'd soon be heading with the corn it looked like a scene from the movie 'Fargo.'
But the despite the bad weather we got six loads hauled today and filled our contract, just ahead of the -12 degrees predicted for tonight.
After a long day in the cold, this is a reward.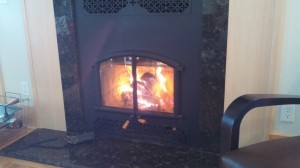 It sure feels good to soak the cold away by the fire.