Tom and I went up to the other side of Ann Arbor to pick up a welder/generator we bought on eBay. As is typical this year it started snowing and blowing ferociously as soon as we left home. We were apprehensive, but as soon as we cleared the Indiana line the snow stopped and the sun came out and we had smooth sailing the rest of the way.
I'd left Debbie with the phone number and address of the place where we picking up the welder in case the person we bought the welder from was one of those crazed on-line serial killers so she could… well… I guess give him a call if we never came home [1].
We picked up the welder without incident.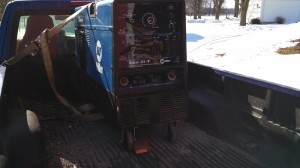 The welder looks mighty fine in the back of my Ranger, but it's destined for 'The Tank,' the F-550 we're setting up as a service truck.
In a marvel of bad planning since we were so close to Ann Arbor we stopped at Zingerman's Deli before lunch. When we were feeding the meter and got to 24 minutes I said to Tom, "that'll be plenty of time." An hour later, and many dollars lighter, we staggered out of Zingerman's laden with meat and cheese and bagels and bread and spices.
Too much is never enough, so we stopped at Metzger's German restaurant for lunch.
Tom had the knockwurst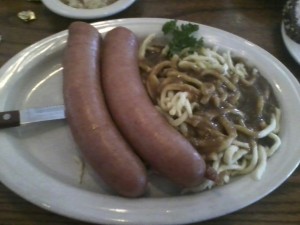 with spätzle and sauerkraut.
I had the lunch special sausage (I forget the name)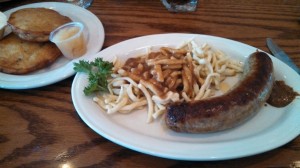 with spätzle and potato pancakes.
Das leben ist schön![2]
---
1. Maybe that wasn't a well thought out plan.
2. Life is good! Especially with sausages!