Ah, a leisurely Sunday afternoon and then phone rings and it's Lana saying "the neighbor called and the green tractor's on fire!"
Sure enough, it was.
We had had the block heater plugged in because we were planning on using it tomorrow. It must of shorted out and started the fire.
Thanks to our neighbor calling the fire department, and the light winds today it didn't spread to the shop where our service truck, semi, and big tractor were all parked. In this picture you can see how close it was parked to the shop.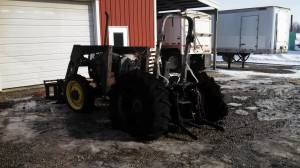 These Deere tractors are rugged. Tom tried to take it for a spin.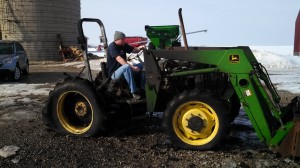 Surprisingly, even though we found the key in a melted pile of rubble, it wouldn't start.
Coincidentally I just paid the insurance bill this morning and I'd been muttering about how expensive the doggone insurance was. Seems like a pretty good deal now!