We had a long slow wet spring, and wheat harvest was the same way. The wheat was barely ripe when we started on July 18th, which is pretty late around here. The weather was cool [1] and every morning we had fog and dew. We couldn't get started until after lunch, and the minute the sun started going down we were done.
Cruising across the field on day one.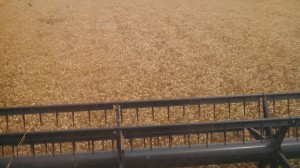 Lunch time on day two. I tried to run a pass and plugged it up twice [2]. Time for a leisurely lunch.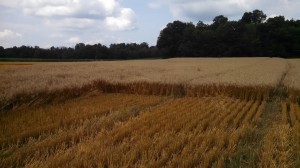 The combine's still looking pretty clean.
The new 'little tractor' cranking the auger.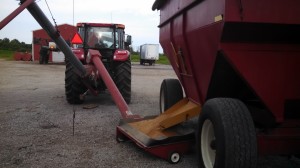 The piece of junk John Deere on the wagon. Our grain buggy blew a hydraulic cylinder, so we're doing it old school, pulling gravity wagons around.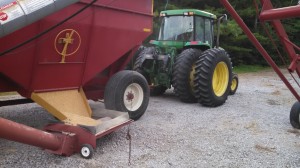 The circled area at the top is wheat pouring into the bin.
Jason Holzinger brought his weigh cart out so we could calibrate our yield monitor. By weighing several loads we can configure the yield monitor so we get an accurate map of the yield [3].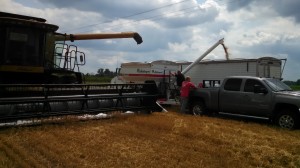 And the result of this calibration is that we can produce maps like this that show how the field yielded. Red is bad, green is good.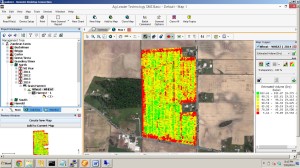 By day 3 it's finally getting dry. We're raising clouds of dust. No more clean combine.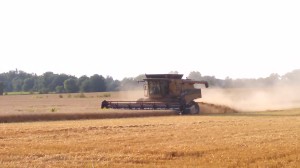 And as the end gets near, we're pushing it harder and harder.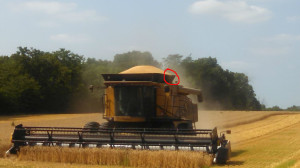 See the circled area? That's wheat pouring over the edge of the hopper. We couldn't quite make a round in this field before filling up. But that didn't stop us [4] from trying!
And the only thing prettier than a wheat field is …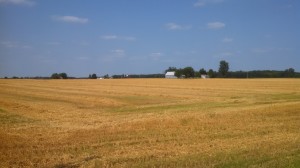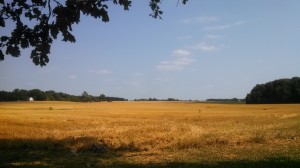 … a harvested wheat field.
Wheat 2014 is history. It was our best wheat crop ever by over 10%.
In just 2 and a half months we'll be planting the 2015 wheat crop. Can't wait!
---
1.
Which was good, because the air conditioner in the combine was barely working. "Waaah, wah, waaah," you say? You've never sat in a glassed-in box on a July afternoon then.
2. Tom was riding with me, and after I plugged it the second time I said, "Ok, time to stop being stupid." And Tom said, "I wondered when you were going to admit it."
3. Tom is helping keep Jason's truck steady so our measurements aren't compromised.
4. I'm not naming names, but 'us' was not 'me.' I was busy taking pictures as opposed to actually working.