We had a storm go through last night. It didn't seem that bad at our place, the wind blew, but we've had much worse.
We went over to Tri-Lakes to Portside Pizza for supper and we were surprised by how many trees and limbs were strewn everywhere.
And I was really surprised went I went over to the farm this morning.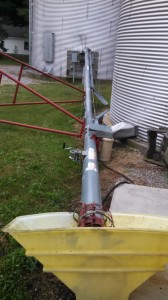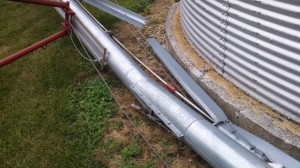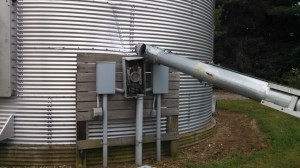 The auger that goes from our corn dryer to the storage bin toppled in the wind. Not only that, it managed to hit the electric meter[1] dead center, smashing it.
That auger had been sitting in the same spot since 2008. We've had terrible storms since 2008, including the derecho of 2012.
There's a 91 mph wind speed label right over our place on that graphic. And the auger stood just fine through that. Yet whatever went through yesterday took it down.
Fortunately we won't be drying corn and needing this auger for at least 6 weeks, so we have plenty of time to figure out whether to repair or replace it.
---
1.
What was really cool in all this was that we found out about it when our local electric cooperative called us to tell us something had happened to the meter. They know in real-time whether the meters are working or not.