We planted 4 cucumber plants this spring. They all froze in a late frost. Then we planted 4 more. All but one of froze in an even later frost. But the one surviving vine is producing cucumbers with a vengeance. I made 5 pints of pickle relish last week and I made dill pickles today.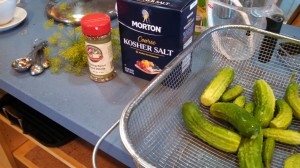 The dill is from our garden too, the dill plants are going great this year. There's not a lot of cucumbers there, but it was enough to make 3 pints, a nice quantity for us.
I tried a low-temperature pasteurization technique where you process the jars for 30 minutes while holding the water temperate at 180 degrees. It's supposed to result in a crispier pickle. I'm anxious to try some, but I always feel like I should hoard the jars until winter and eat fresh from the garden now.