I love cutting wood.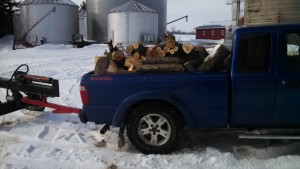 When you get done cutting a load of firewood you sure enough know you've done something. You're soaked in sweat, despite it being winter. Your arms ache, and if you're an old guy like me, your back does too. You have sawdust in your ears, and they're ringing from the howl of the chain saw. Your face is scratched from being tagged by branches.
And you have a big old pickup load of wood to show for it. Next year when that wood's seasoned we'll put it in the fire and enjoy it all over again.
There's not a much better way to spend an afternoon than with a chainsaw[1].
---
1. And it's even better when it's your dad's chainsaw and you can remember him. Lord, could he swing an ax.