I finally got a chance to try out the smoker on the Big Stone Cooking Area. There were a couple uncured pork shanks languishing in the freezer from last year's Day of Pigs. Over Thanksgiving eldest son Josh and I cut up a hickory tree that had fallen so I had an abundance of slightly green hickory for making smoke. All the stars were aligned!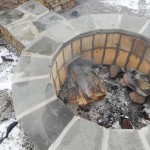 Here's the fire burning in the firepit. It's not a roaring blaze, just a few sticks of hickory smoldering away, making smoke. It's drawing the smoke through the flue in the left center of the picture into the smoker.
The fire doesn't look like it's doing much, but as you can see in this picture it's smoking nicely. The pork shanks are hanging in the chimney. I haven't built a cover for the smoker yet; you can see the inelegant yet functional piece of plywood covering most of the smoker top to control the draft. I smoked them for about four hours, adding a stick of wood to the fire every hour or so. There was nothing scientific about 4 hours. I started after lunch and it was getting dark 4 hours later, so I figured that was long enough.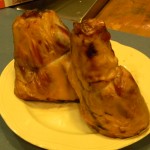 Here are the nicely smoked shanks. They're just smoked, not cooked, after 4 hours in the smoker. They smell wonderful! (You'll have to take my word for that.)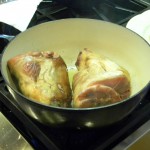 To finish cooking the shanks I'm going to prepare them like osso buco by braising them in the oven until tender. I brown the shanks, take them out, then brown some celery, onions, and carrots. I deglaze the pan with a little white wine, then add stock and tomatoes and bring it all to a boil. Then the shanks and veggies go back in, I cover it and put it in a low oven for 3 1/2 hours.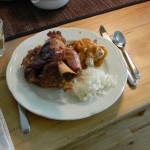 After 3 and a half hours it's falling off the bone tender and ready to eat. We mashed some potatoes with roasted garlic and horseradish. I ran the sauce from the pan through the blender until it was smooth. A little sauerkraut rounded out the plate.
They tasted great. They had a nice smoky taste that wasn't overwhelming. I'm planning a Day of Pigs II later this month. I'm looking forward to smoking the bacon and some sausage then.
P.S. If you're viewing this in Internet Explorer and it's horribly screwed up in the formatting, I'm sorry and I apologize. I am weary unto death with browsers and their lame implementations and I'm just not going to go back and try to deal with it.