If you're like me you have a container of preserved lemons in the refrigerator.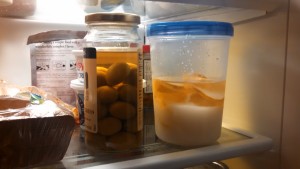 I love to preserve things; canning, salting, fermenting, smoking, freezing. You name it, I like to do it. But then I end up with things like a quart of preserved lemons and wonder, "What do I do with this?"
The quart of preserved lemons in our refrigerator finally guilted me into using them. I diced about a half dozen of the lemon slices fine and used them to top fish with olives.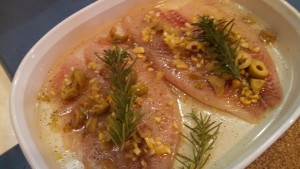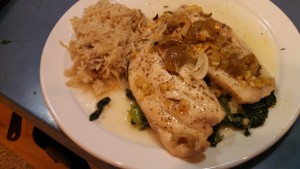 Really easy, really tasty.
Baked Fish with Lemons and Olives
For 2
Ingredients
Two whitefish fillets, I used tilapia
About 6 slices of preserved lemons
About a handful of green olives, pitted
2 cloves garlic
2 rosemary sprigs [1]
Olive oil
White wine
salt and pepper
Procedure
Turn your oven on to 450.
Finely dice the preserved lemons
Slice or roughly chop the green olives
Thinly slice the garlic
Scatter the garlic in a baking dish
Brush the fish with olive oil and season with salt and pepper. Consider how salty your olives and preserved lemons are when salting the fish.
Scatter the lemons and olives over the fish
Top with the rosemary sprigs
Pour about 1/2 cup of white wine in the pan
Cook until the fish just flakes apart. My fillets were about 3/4's of an inch thick and it took about 18 minutes.
Plate on top of some sauteed greens (I used collards) with rice. Spoon the sauce over and serve.
---
1. Debbie has kept a rosemary plant alive all winter. It's so nice to be able to clip a sprig of fresh rosemary in February when it's 5 degrees below 0 outside.