The view off of our porch on March 1st.

Sure is pretty. Hard to imagine the first day of spring is less than 3 weeks off.
If you turn your gaze a little lower, this is also the view off our front porch.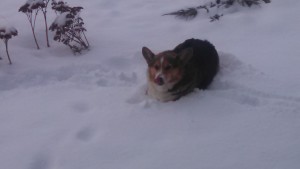 Owen loves the snow and cold. It makes me want to burst into song.
Sung, of course, to the tune of "Frosty the Snowman"
Owen the snowdog was a jolly happy soul
With a stubby tail and a pointy nose
and two eyes that saw your soul [1]
Owen the snowdog is a fairytale they say
He rolled in the snow but the children
know how he bit them all one day
There must have been some magic in that
old collar they found
For when they placed it 'round his neck
he began to bark and growl
---
1.
Yes, I know I'm rhyming "soul" with "soul". This ain't fine poetry, or even country music.