I blasting home with the planter, well, blasting is an exaggeration, on our county roads that's 0 to 12 mph as we navigate the potholes and half-hearted road repairs.
Anyway, blasting along and I came over a hill and there was a turtle in the road!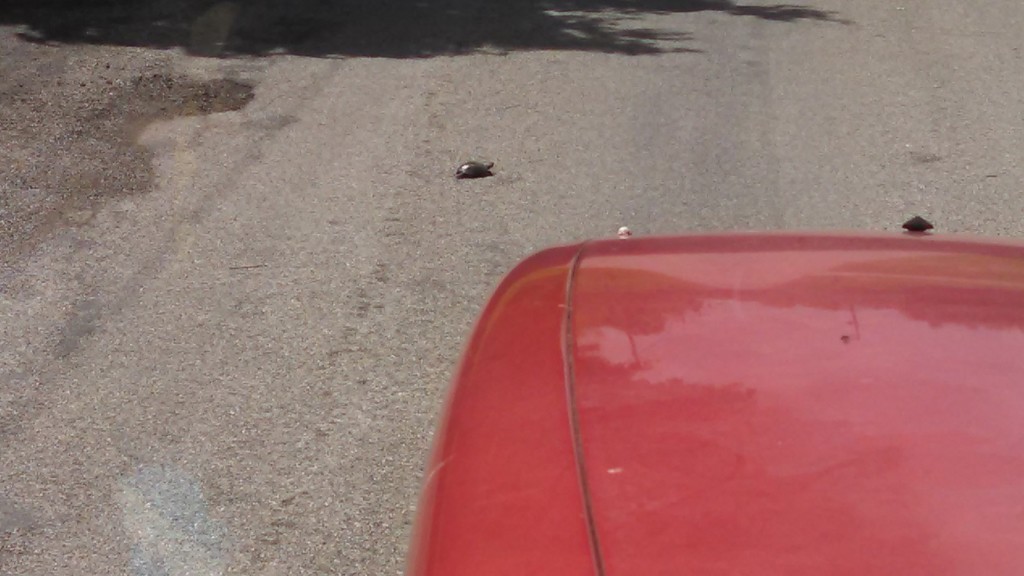 Our planter tractor has terrible brakes but I got it stopped in time. The turtle stopped too. We had a standoff.
I looked at the turtle and I looked at the tractor. The tractor is dualled up, 4 tires across, each 18 inches wide. I was pulling our drill, which has 4 flotation tires across the back, each of them over a foot wide and not lined up with the tractor duals. No way was I going to be able to proceed and not hit the turtle with one of those tires.
I looked behind to make sure no one was barreling down the road and about to get a surprise when they came over the hill. The drill is over 20 feet wide and blocks the entire road. The way was clear, I hopped out of the tractor and picked up the turtle and carried him across the road. He was not grateful.
I was feeling grateful though as I headed home. Grateful that I didn't smash a turtle. Grateful that one of my neighbors didn't smash me while I was stopped on the blind side of a hill. Good karma.