We went to Albright's grocery in Corunna last Sunday. If you've never been to Albright's you're missing out. They have the most amazing meat counter you've ever seen, and prices are incredibly low.
We came home with an armload of goodies, one of which was a boneless pork loin roast. I'd stumbled across Michael Ruhlman's recipe for Canadian bacon recently and I'd been hankering to try it.
I pretty much followed Ruhlman's recipe step by step. When it comes to cured meat, I like to have a trusted source and to listen to them.
First was brining the pork for 3 days in sugar, salt, lemon, spices, and the oh so essential sodium nitrate.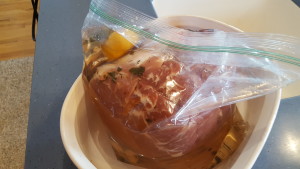 After 3 days I removed the pork from brine and let it dry in the refrigerator. After drying I hot smoked it for about 4 hours at 225 degrees.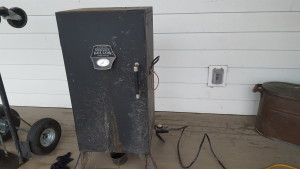 Now I'm a purist when it comes to smoking. I like to smoke over a wood fire with blends of hardwoods I've cut myself. But it was howling wind and blowing snow on Thursday when I needed to smoke the Canadian bacon and I wasn't up to building a fire and babysitting it in those conditions. Instead I got out the electric smoker that I inherited from my Dad's good friend Sam Taulbee.
The electric smoker is so easy to use. You just set it and it holds the cooking temperature exactly there. All you have to do is throw a few wood chips in every now and then.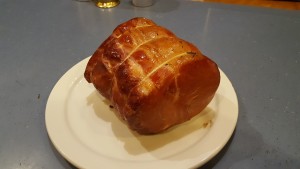 The proof of the pudding is in the eating, and it's hard to argue with results like these.
Tasting something like this makes you realize how weird, unnatural, and chemical-y commercial Canadian bacon is. It was easily one of the best things I've ever eaten, let alone prepared.