Like everyone else we resolved to eat healthier at New Year's Eve. More fruit, more veggies, less refined carbs, less fat, less sugar. Yadda, yadda, yadda, heard it all before.
We do pretty good at getting vegetables, but fruit is always an issue. Fruit is dessert to me and that's hardly a New Year's Eve resolution solution.
I was watching a cooking show and the chef made a chicken, shrimp, and fruit salad. Poached chicken and shrimp, oranges, apples, and grapes tossed with lime juice and garnished with fried garlic and shallots, and chopped peanuts.
Sounds weird (or even nasty), right? When he was making it I thought it would be horrible, but it looked good, and thinking of my resolutions I decided to give it a try.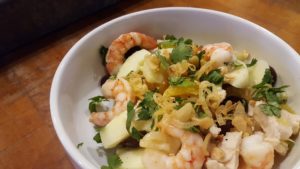 That's a pretty salad! And it was shockingly good. Light and fresh. The apples soak up the lime dressing and are scrumptious.
Over 2 weeks into February and we're still hanging in there with our New Year's resolutions!
Chicken, Shrimp, and Fruit Salad
2 generous main course salads
¼ teaspoon salt
1 Granny Smith or other cooking apple
1 to 2 cups seedless grapes, cut in half
1 orange, segmented,
1 tablespoon garlic, fried
½ cup shallots, fried
1 boneless, skinless chicken breast
16 medium shrimp
4 tablespoons roasted peanuts, chopped
1 teaspoon salt
1 teaspoon sugar
2 tablespoons lime juice or lemon juice
2 to 3 serrano chilies
2 tablespoons cilantro leaves
Slice a few garlic cloves thin and slice a shallot thin. Fry gently in oil until just browned. Drain the garlic and shallots on paper towels and save the delicious oil for something else.
Cut the chicken into long thin strips and poach gently until done, maybe 5 minutes. Remove from the poaching liquid and set aside.
Poach the shrimp in the same liquid until done, maybe 2-3 minutes. Set aside.
When the chicken and shrimp have cooled you can shred or dice the chicken. You can leave the shrimp whole or dice them too if you like uniformity. I left mine whole.
Combine the chicken, shrimp, and peanuts and set aside. The salad is served at room temp.
Combine 1 teaspoon salt, the sugar, and the lime juice in a small bowl and mix. Instead of salt I used about 1/2 teaspoon of fish sauce and I recommend that highly. If you don't have fish sauce, soy sauce would be nice instead.
Set aside. Use as many or as few chilies as you like. I used about 1/2 of a big jalapeno and diced it fine. Dice or cut into fine rounds as you prefer.
Slice the cilantro leaves as fine or coarse as you like. Set aside.
Peel and slice or dice the apple.
Combine the apples, grapes, oranges, chicken, shrimp, and peppers in a large bowl. Add the lime juice and sugar mixture. Season with salt and pepper. Let it sit for 5 minutes or so to soak in the dressing.
Garnish with the reserved shallots, garlic, and cilantro leaves.
Based on a recipe from Madhur Jaffrey's Far Eastern Cookery