Any month with an 'r' in it, that's horseradish season. April's a good time to do it, because the ground's not frozen.
Spenser and Owen (the Wonder Dogs) and I went out and dug 4 nice roots today.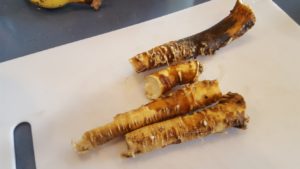 Here they are all cleaned up. Then I peel them with a vegetable peeler.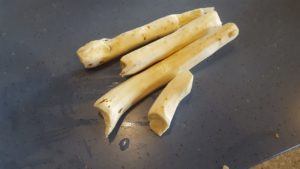 Next I chopped them up and into the food processor they go.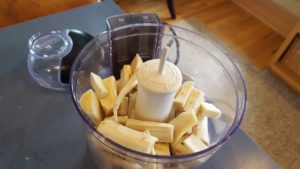 Those chunks were too big, they just spun in the food processor. I dumped them out and chopped them up a little more. That worked.
The longer the chopped horseradish is exposed to air, the hotter it gets. This stuff was hot to start with and soon was suitable for use as a chemical weapon. I poured in a few tablespoons of white vinegar and a pinch of salt and gave it a buzz in the processor to stop the heat.
Of course we had a pretty jar to put it in.