My mom moved to a smaller place and gave us her freezer. She cleaned it out, but she had a couple bags of frozen fruit that I said I'd like to have: a bag of pie cherries and a bag of blackberries.
Today's a cold and rainy Saturday so with nothing else to do I thought it was a good day to do something with that fruit.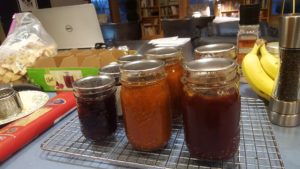 That's, from left to right, cherry jam, cherry barbecue sauce, and blackberry barbecue sauce.
The cherry jam is tasty, sweet and tart and tasting like cherries. The cherry bbq sauce is great, hot and spicy with a sweet undertone from the cherries. The blackberry bbq is different, it has smoked paprika and chipotles and it's smokey and spicy and fruity. I think it will be really good on the right dish, but I'm not sure what dish that is.
Sour Cherry Jam
From "Food In Jars" by Marisa McClellan
Ingredients
About six cups of mashed, pitted sour cherries. That takes about 3 – 4 pounds of pitted, frozen cherries
3 cups sugar
1 packet liquid pectin, or 2 tablespoons of sure-jell
Process
Combine the cherries, sugar, and Sure-Jell in a saucepan and boil for 20 minutes.
(If using liquid pectin add it at the end.) Skim off any foam that arises. After
20 minutes it should be very thick.
Process in a boiling water bath like any jam.
The recipe says this makes 3 pints. I don't know what I did, but mine made about 3 1/2 half pints. It tastes right, not like it has twice too much sugar.
Sour Cherry Barbecue Sauce
From Serious Eats
Ingredients
2 tablespoons butter
1 medium yellow onion
2 medium cloves garlic, minced
2 cups tomato sauce
1 1/2 cups roughly chopped frozen, pitted cherries
2/3 cup dark brown sugar
1/3 cup freshly squeezed orange juice
1/4 cup molasses
1/4 cup cider vinegar
1 teaspoon ancho chili powder
1/2 teaspoon dry mustard
2 teaspoons Kosher salt
2 teaspoons freshly ground white pepper
1/8 teaspoon cayenne pepper
Process
Saute the onions in the butter until soft, add the garlic and cook until fragrant
Add everything else and bring to a boil, then lower the heat and simmer for 20-30 minutes until it's thickened.
Process in a blender.
Makes about 2 pints.
Blackberry Barbecue Sauce
From Food & Wine
Ingredients
1 pound blackberries
2 teaspoons sweet smoked paprika
3 tablespoons vegetable oil
1 tablespoon minced garlic
1 medium onion, finely chopped, plus 1/4 cup minced
1/4 cup tomato paste
1 cup apple cider vinegar
1 cup packed light brown sugar
1/4 cup soy sauce
3 tablespoons seeded and minced chipotles in adobo sauce
2 tablespoons Dijon mustard
1 teaspoon ground cumin
2 tablespoons oregano
Process
Saute the onion in the oil until soft, then add the garlic and cook until fragrant.
Add everything else except the 1/4 cup minced onion and oregano. Bring to a boil, then lower the heat and simmer for 20-30 minutes. Process in a blender, then stir in the oregano and minced onion.
Makes about 2 pints.