One year ago on December 1st I made a change. Changed jobs, started working out on regular basis, started eating better.
Things happen slowly, that's the hardest part. You don't really notice the changes day to day or even month to month. But looking back over a year you can see good things have happened.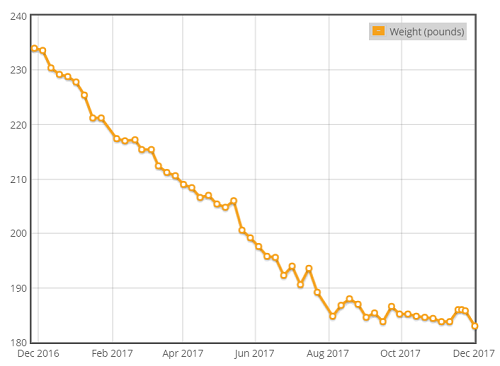 A year ago I weighed 234 pounds. Today I weigh 183. [1]
| | |
| --- | --- |
| Runnning Then | Runnning Now |
A year ago I was doing 2 miles at a 16 minute pace. Today I'm doing 4 miles at 9:40 pace.
A year goes by fast. Looking back at I what I did last year I'm wondering… what to do with the coming year?
1. I pointed out to my son Josh that being proud of losing weight is much like being proud of fixing a bug in my software. I conveniently forget that I caused the problem I solved. But I don't care, both of those give me a lot of satisfaction.