I want to ride my bicycle
I want to ride my bike
I want to ride my bicycle
I want to ride it where I like

– Freddie Mercury
Went for a bike ride today.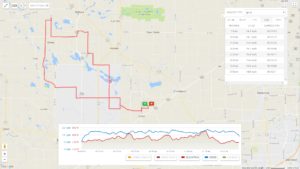 I went past Goose Lake and Old Lake, skirted Etna [1] wandered north until I hit Merry Lea and realized where I was. Turned south, avoided Ormas [2], crossed along the south edge of Merry Lea, then around Bender's Orchard [4]. I stayed straight south until I hit Crane Lake then turned for home. Went past Dulcuis Vineyards [5] and then turned down old 102 towards Tri-Lakes.
That took me past the farm my great-great-great grandfather [6] lived on back in the 1850's. I went around Shriner Lake, where my brother and I bought a cottage in the late 1970's and where my great good friend Deb Imbody has a cottage now.
Almost home, I churned down Burd Road past where my grandparents lived when I was growing up, and where nephew Tom has some nice looking beans on the farm we still call "Grandma's."
And then the final slog down the gravel road I live on.
I was just out riding. Not pushing it, no goals, just enjoying a summer morning before it got too hot, reconnecting with my world. I don't want to ride in a group, or in organized events. I just want to ride my bicycle where I like.
1. Wanting to avoid as they say on 91.5 FM, The Eagle, "The busy streets of Etna."
2. There's a Baptist [3] church there.
3. I misspelled "Baptist" and my spellchecker offered the choices of "Baptist, Rapist, and Papist."
4. Bender's was looking good, but my apple trees are too. Don't know that I'll need to buy apples this fall.
5. Dulcius Vineyards is about the coolest thing ever. Someone with a lot of money and skill plopped a vineyard right here in my neck of the woods. It's a beautiful thing. So much of the ground around here should not be used to grow corn and soybeans. It makes me so happy to see people trying other things.
6. Henry Sylvester Zumbrun.