The first presidential election I could vote in was 1976, Jimmy Carter vs Gerald Ford, that was a no-brainer, and I've voted in every election and primary since then.
But I'd never watched an inauguration until January 20th, 2020. I'm not one for pomp and circumstance, and politics and political speeches bore me to tears. Throughout the dark years of Trump I always thought the center would hold. I believed in the checks and balances of our government and didn't believe Trump could subvert them.
January 6th, 2020 proved me wrong. A mob egged on by Trump and enablers like my very own congressional representative Jim Banks attacked our Capitol and overran it to attempt to overthrow the election by violence. Our democracy was poised on the edge of a knife.
And our democracy survived. The traitorous insurgents were turned back. Trump was driven from Washington muffled and disgraced. The center had held.
On January 20th then I was glued to the TV, watching the peaceful transfer of power, listening to the ceremonial words and oaths, listening to Biden's elegant words, and to the amazing poetry of Amanda Gorman. I'd taken all of that for granted, never realizing that a reality TV show host and a failed real estate agent[1] came to the breadth of a hair of bringing it all down.
But they didn't, and I was ready to celebrate! As usual, when I want to celebrate I think of food. Debbie and I were kicking around ideas for an inauguration day feast when Debbie's sister sent us a link to an inauguration day menu that Jose Andres was doing.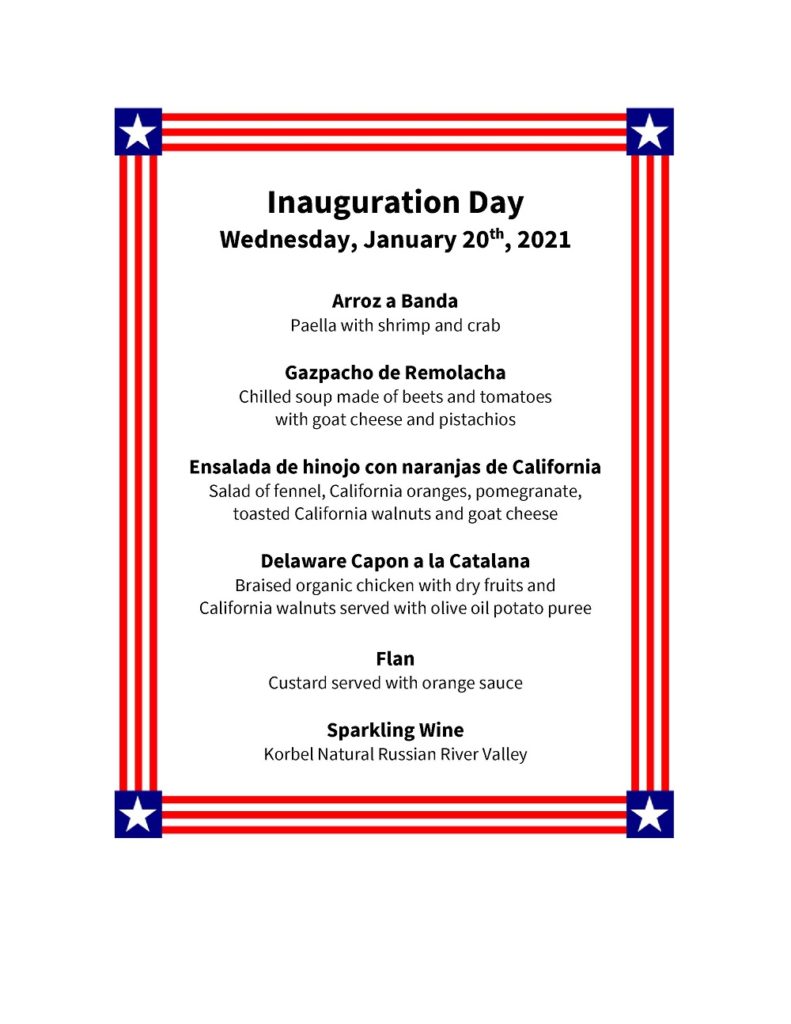 This was our menu, an unabashed ripoff of Jose's. The theme is that it features ingredients from Biden and Harris' home states of Delaware and California. The "Delaware Capon" seemed like a bit of a stretch, but when you have the native cuisine of Delaware as an inspiration I guess that might be the best you could do.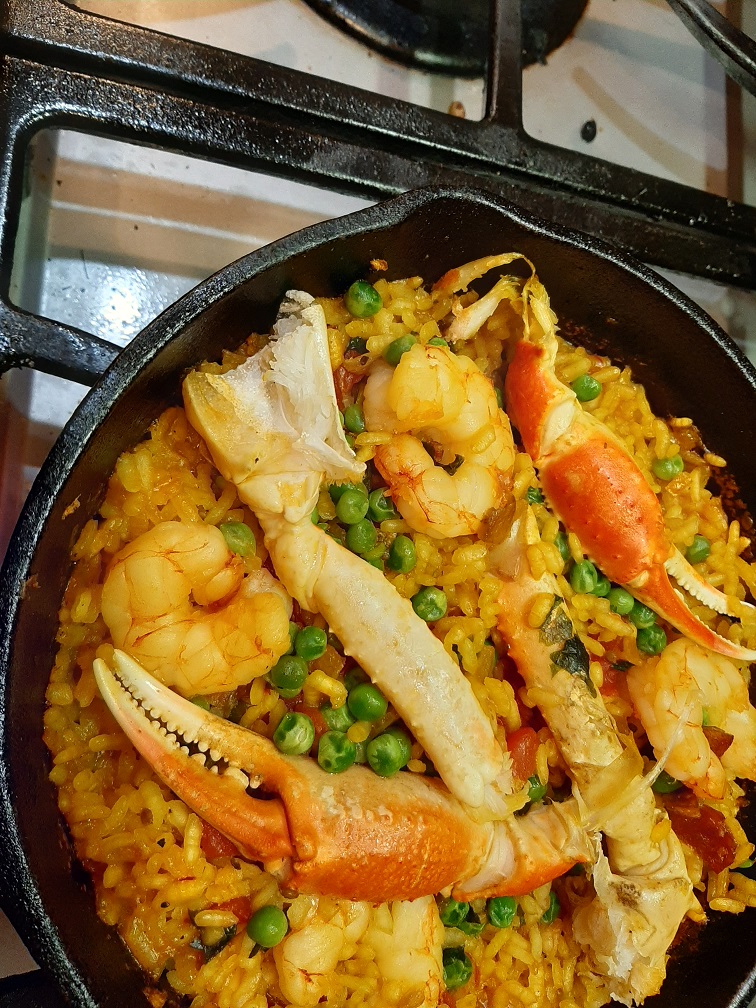 Arroz a Banda, what I always called paella, with crab and shrimp.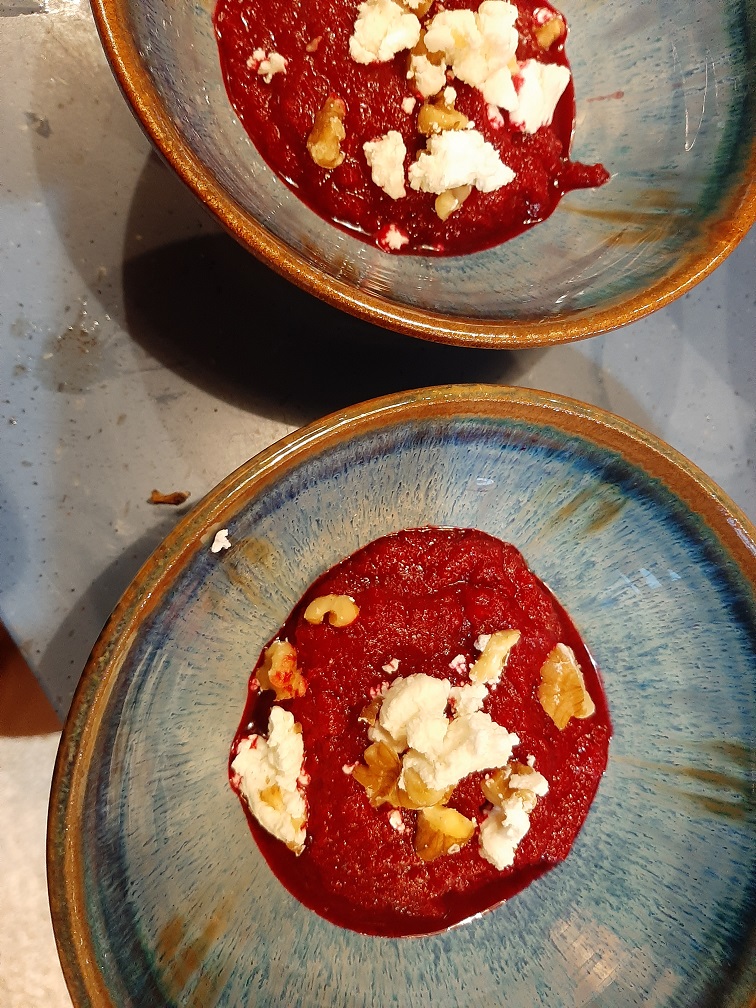 Gazpacho de Remolacha, gazpacho made with beets, served cold. It sure was pretty, but I hate beets. When I was in elementary school we had to eat everything on our trays at lunch, and when beets were on the menu I'd hide them in my milk carton. I hated them then, and I hate them now. But I wanted to be faithful the Jose's menu and the occasion so I made it and choked it down.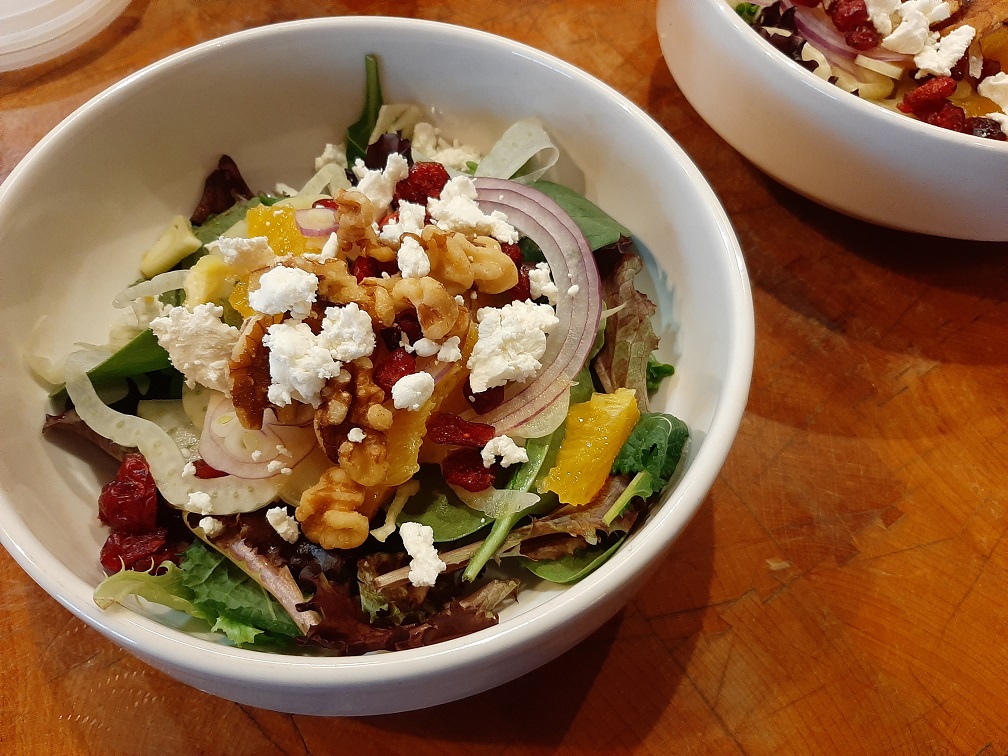 A nice salad of fennel and orange with a bright vinaigrette was the perfect thing to get that nasty beet taste out of my mouth.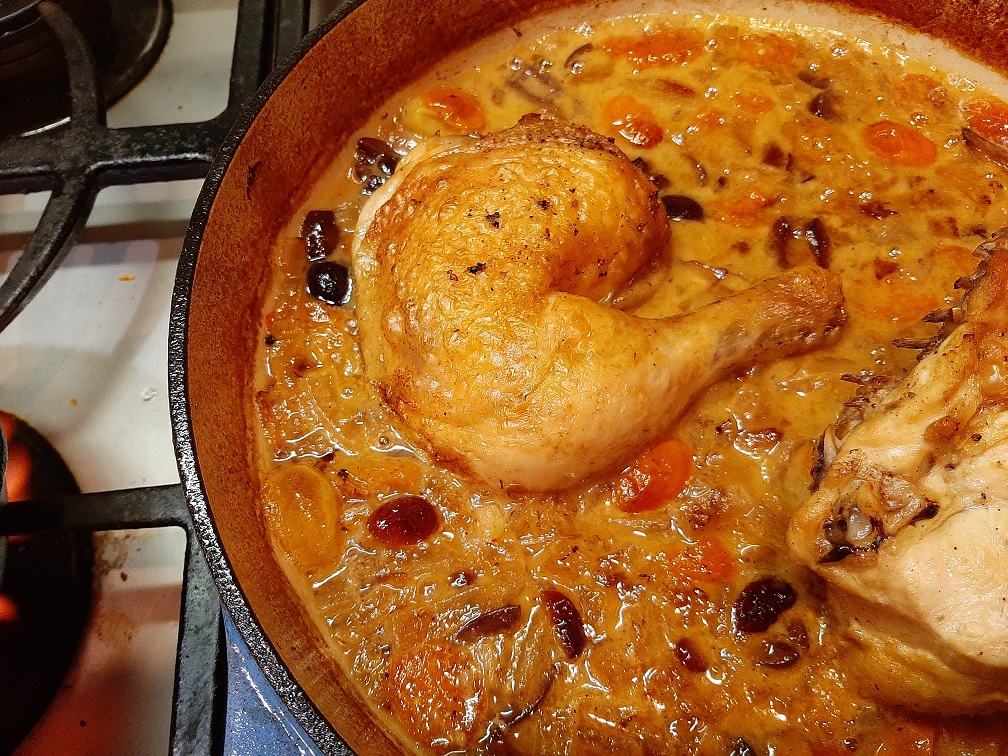 I think our Delaware capon was actually a northern Indiana fryer, but stewed with dried fruits and walnuts it was delicious.
Finally a flan infused with orange. I often have troubles with custardy desserts but this came out perfect. I steeped the custard with orange peels for about 10 minutes and it came out just lightly perfumed with orange.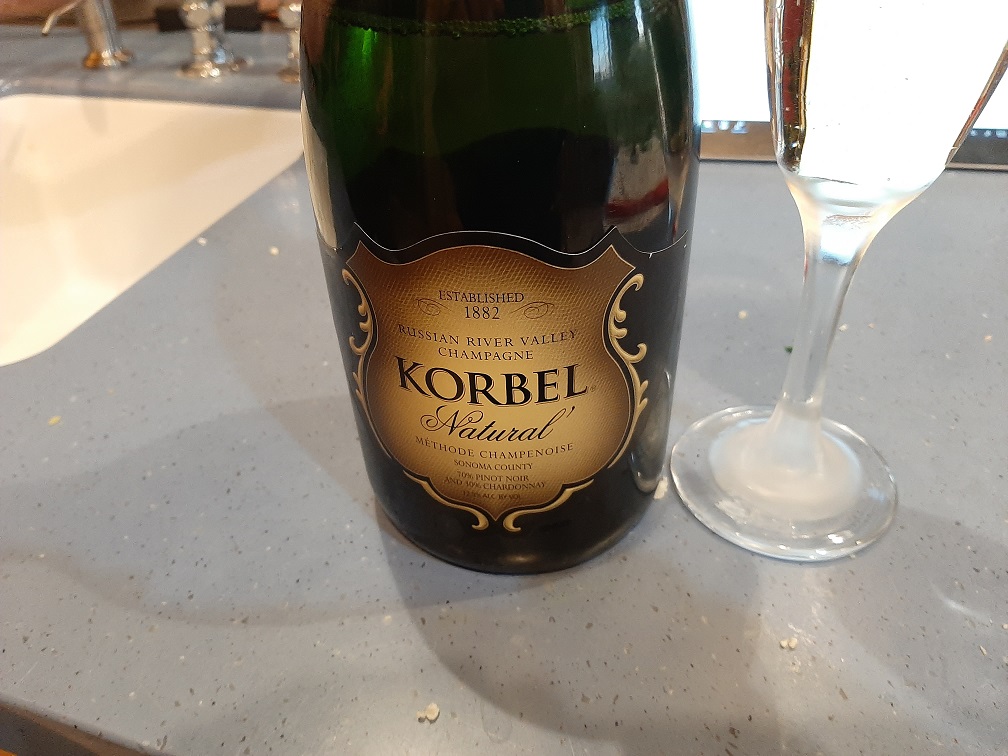 And we just happened to have a bottle of California sparkling wine in the cellar. Neither of us could remember when we got it or why we had it. We usually don't buy good champagne, but it was an unexpected stroke of good fortune to find it in our cellar.
The center has held! Cheers!
1.
The aforementioned Jim Banks. He failed at selling real estate and moved down the socio-economic ladder and got a job as an Indiana State Representative and has continued his downward slide until he's now a mouthpiece for Trumpism on the Tucker Carlson show.