The garden is producing like crazy. Cucumbers, watermelon, sweet corn, cantaloupe, fennel, collards, peppers, tomatillos, eggplant, and tomatoes.
Too many eggplants and tomatoes may say eggplant parmesan, but today I made an eggplant curry to try something different. It was so good!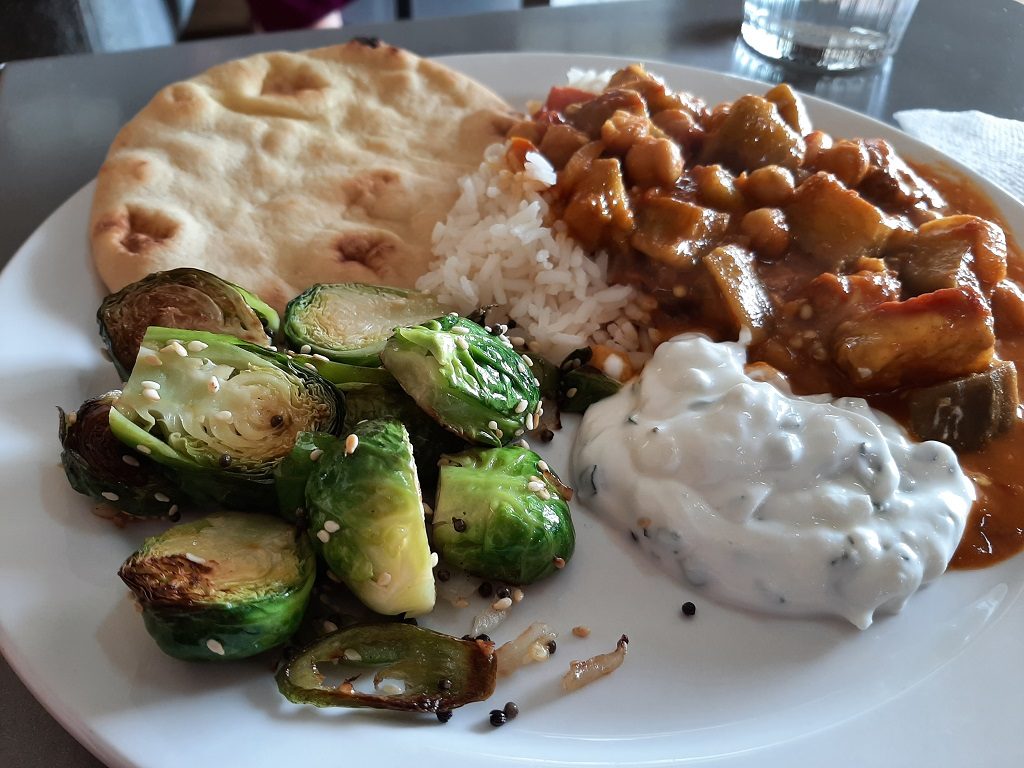 The eggplant started to break down and made the curry sauce thick and rich. Easy, delicious, and light. Eggplant parmesan is not the only option!
The Recipe
Ingredients
1 big eggplant or 2 medium sized ones
A 14 oz can of diced tomatoes, or if you have fresh tomatoes about 4 nice sized tomatoes
1 can chickpeas
Half a big yellow onion
A red bell pepper
2 teaspoons ground coriander
2 teaspoons turmeric
1 teaspoon garam masala or curry powder
2 teaspoons paprika (or 1 teaspoon smoked paprika and 1 teaspoon sweet paprika)
3 cloves garlic minced
2 teaspoons grated fresh ginger
1 can coconut milk
How to Cook
Peel the eggplant and dice into cubes about 1″ square. Toss the cubes with salt and let sit in a colander.
Turn the oven on to 400 degrees.
Dice the onion and pepper.
If I'm using fresh tomatoes I like to peel then by blanching them for 30 seconds or so, then dropping them in cold water and slipping the skins off.
Heat some oil in a skillet and cook the onions and peppers until they're just starting to brown
Toss in the garlic and ginger
Toss in the spices. Cook until it smells fragrant, just 30 seconds or so.
Pour in the tomatoes and chickpeas. Give it a good stir, cover, and turn the heat to low.
Pat the eggplant cubes dry with a paper towel, toss with a couple tablespoons of oil, and roast on a rimmed baking sheet in the oven for 30 minutes, turning halfway though.
After 30 minutes, put the eggplant in the tomato sauce and add as much coconut milk as you like, anywhere from half to the entire can.
Stir and simmer for a few minutes, then taste. Add salt, cayenne pepper, or sriracha to your taste.
Enjoy with rice, raita, and naan.
I'm thinking I'll freeze our excess eggplants this year and use them to thicken stews and sauces this winter. They made this curry silky and rich.