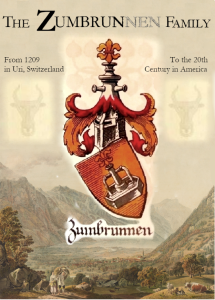 It has been over 20 years since anyone compiled a genealogy book of the Zumbrun family and the time has come for a detailed update. Much has been learned about the family's roots in Switzerland, their time in Germany, and their early years in the Americas.
Most online genealogies begin with Heinrich Zumbrun, knowing only that he immigrated on the Ship Brothers in 1754. In recent years, a new picture has been discovered of Heinrich's childhood and his family in Europe (where they originally spelled the name Zumbrunnen), his life before he immigrated, and his early years in America.
A few pieces of family legend have been debunked (no one died in a shipwreck) and the early Zumbruns were indeed a mercenary family, but not Hessian mercenaries in the Revolutionary War as many genealogists had mistakenly theorized.
Extensive records have been uncovered of the Zumbrunnen family in Switzerland. For centuries the Valley of Uri in Switzerland was their home. Within Uri they rose to positions of prominence and were closely involved in the creation of the Swiss Confederacy. Many served as magistrates and lived in Swiss castles. For centuries they were involved in military conflicts against Europe's Habsburg princes.
All this research and other material never before translated into English will be compiled in a two-part work.
The first part will be richly illustrated with color images of Zumbrunnen coat-of-arms throughout the centuries, the castles and homes in which they lived, the churches in wish they worshiped, the towns in which they settled, and so on.
The second part will be a detailed genealogy beginning over 800 years ago, and ending in about the year 1920 (in order to protect the privacy of the living.)
The intention is for this book to be not only a comprehensive genealogy reference but also a beautiful keepsake. The current timeline is for the book to be printed in late 2021.
Determining the level of interest could help lower printing costs considerably. If you would be interested in ordering a copy of this book once it is ready, please email me at: